Images of Crude Oil Fluorescing under the UV Spotlights
New LVUV UV Spotlights Shine a Light on Oil Spills
The new Low Voltage UV (LVUV) UV Spotlights for surface screening use UV LEDs and are well suited for the detection of fuel derived hydrocarbons. The LVUV UV Spotlight illuminator was recently demonstrated on beaches where "tar balls" ranging from sand grain size to flattened baseball size were readily visible on the beaches (see Figure 1).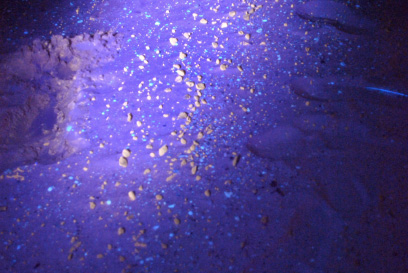 Figure 1. "Tar balls" fluoresce bright orange on the beach under UV Spotlight illumination at night. The largest tar pieces in the photograph are about 1-in. diameter. Note the fine, sand-grain sized tar on the left side of the photo. Shells and other natural materials fluoresce blue/teal.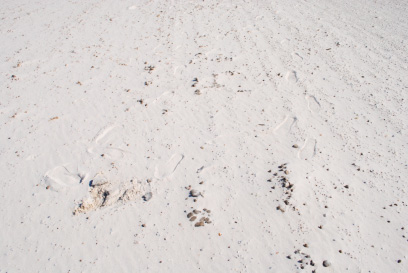 Figure 2. The same beach as in Figure 1 during daylight hours. Only the larger tar balls are visible.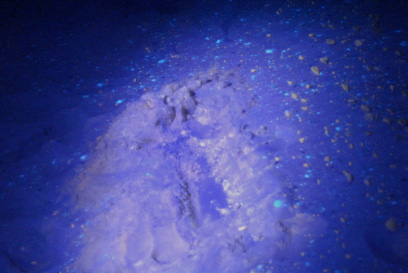 Figure 3. Disturbed sand and tar balls on sand. The orange region comprises tiny tar particles (sand grain size and smaller) not visible under daylight conditions.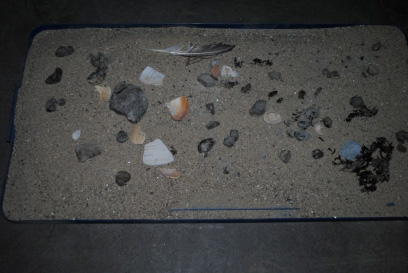 Figure 4. Tar balls, shells, and other materials from beaches viewed under white light.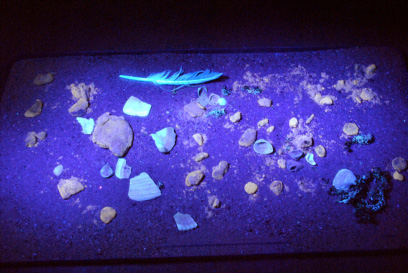 Figure 5. Same sample as Figure 4 under LVUV illumination. Again, the tar fluoresces orange and very small tar particles - invisible in Figure 4 - are readily observed under UV light.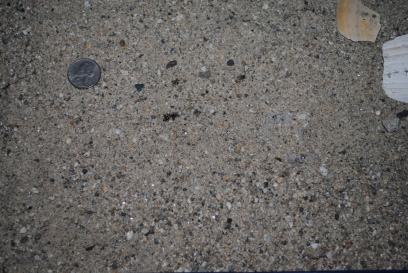 Figure 6. Photograph of coarse beach sand under white light. To the naked eye, the dark materials to the right of the nickel could be interpreted as tar balls. Refer to Figure 7 for comparison with UV illumination.


Figure 7. Same sample area as Figure 6 under a LVUV UV Spotlight. Only a few of the larger dark materials observed in Figure 6 are in fact tar balls. Additionally, UV illumination reveals previously invisible tar contamination consisting of very fine particles.